In Home Care in San Gabriel Valley, Los Angeles County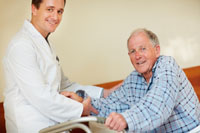 At A-1 Home Care we believe in caring for elderly, senior, and geriatric individuals, as well as active and physically disabled children living in San Gabriel Valley and the greater Los Angeles area as though they are members of our very own families. Our nurturing, energetic, knowledgeable Home Care Professionals, Certified Nurses Assistants, and Living Assistance Caregivers understand the difficulties associated with your Hospice Care, Respite Care, Post-Stroke Care, Cancer Care, Parkinson Care, Diabetic Care, Down Syndrome Care, Post-Partum Care, or Incontinence Care needs, and offer you the best in home healthcare at prices that suit your budget.
We have eager intake agents available today at A-1 Home Care at (626)287-0250.
Do You Need In Home Care Immediately?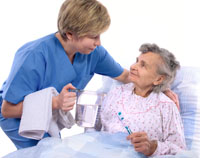 As the leading homecare agency in San Gabriel Valley and Los Angeles, we have Certified Nurse Assistants, Home Helper and Companion Care Services available 24 hours a day, 7 days a week, 365 days a year as your needs dictate. Even with short notice, A-1 Home Care is prepared to offer top of the line Full-Time, Part-Time, Long-Term, Short-Term, Live-In, or Hourly care for even the most complicated diagnoses to include the following:
Arthritis
Tourette Syndrome
Autism
Central Auditory Processing Disorders
ADHS
Dyslexia
Hypertension
Diabetes
Gout
Parkinson's disease
Terminal Illnesses
A skilled Caregiving Professional is available at (626)287-0250.
Personalized Homecare in the San Gabriel Valley Area
Do you have a child coping with Spina Bifida or Cystic Fibrosis? Have you or a loved one been recently diagnosed with Early Onset Alzheimer's? Would you like the comfort of knowing that your elderly loved one has a competent caregiver standing at the ready to provide loving support with any of the following activities?
Meal Preparation, Cooking and Feeding
Laundry, Dish Washing and Vacuuming
Grocery Shopping, Dry Cleaning and Other Personal Errands
Conversation, Friendship and Companionship
Bathing, Showering, and Personal Hygiene Assistance
Personal Hygiene and Grooming Assistance
Transportation to Medical Appointments and Outings
Assistance with Walking and Ambulation
Total Transfer Assistance From Bed to Wheelchair
Regular Status Reporting to Family Members
Medication and Appointment Reminders
At A-1 Home Care we understand that no two clients will ever have exactly the same needs, even if they share a common diagnosis. As an industry leading home assistance agency, A-1 Home Care is committed to providing you and your family with customized care in the supportive, familiar environment in which they are accustomed.
Please call A-1 Home Care at (626)287-0250 for additional information.
Finding the Right Caregiver
When finding a caregiver in San Gabriel Valley, there are so many variables to consider. Beyond understanding the full scope of service needed for you or your ailing loved one, you must also consider safety and security as a priority. At A-1 Home Care we take the guesswork out of this daunting task. We guarantee that each caregiver associated with our award-winning agency has passed a thorough Nationwide Criminal Background Check, Nationwide Sex Offender Database Check, DMV Check, Reference Verification, and Tuberculosis testing. Each Home Health Care Provider, Private Duty Nurse, Certified Home Health Aide, and Personal Home Caregiver is equipped with Adult, Child, and Infant CPR-certifications, First-Aid training, and Malpractice/Liability Insurance.
Call (626)287-0250 to discover how can assist you and your family!
We are pleased to help you find care for the elderly, disabled, and active individuals in your San Gabriel Valley private home, assisted living facility, nursing home, or rehabilitation center. We have successfully dealt with the following Long Term Insurance Companies:
Penn Treaty
John Hancock
Banker's Life and Casualty
Veteran's Administration
CALPERS
MetLife Insurance
Contact us at (626)287-0250 to get the best homecare available in the San Gabriel Valley.